Runners loosen tight hip flexors and ease joint pain in the legs, Golfers get a smoother, stronger swing by working through their core, Tennis players balance arm, shoulder and upper back strength and mobility, Equestrian riders strengthen their upper back, abs and hips to assist with their posture and the everyday person stands taller, stronger and without pain.
Pilates' no impact work is also perfectly suited to those rehabilitating neck, back or joint injuries, even those with joint replacements, arthritis and osteoporosis. Pilates equipment and mat classes offer a low-impact method to gain strength and mobility.
Pilates machine sessions at Symmetry are designed and individualized to suit your specifi needs and goals for your body. Sessions can be done as one-on-one personal training, semi-privates or in group classes.
PILATES PRIVATE MACHINE sessions
EVALUATION $60
includes posture analysis, flexibility test and instruction in Pilates Fundamentals
PRIVATE
$80 1 session 65+ $75
$380 5 sessions $355
$710 10 sessions $660
$1310 20 sessions $1240
SEMI PRIVATE
(cost per person)
$55 1 session 65+ $50
$280 5 sessions $260
$490 10 sessions $470
$895 20 sessions $810
Privates are one-on-one sessions with a Pilates certified instructor, in which you receive individual attention and learn both mat and equipment exercises.
We recommend privates for clients with specific pain or health issues. Privates also compliment group classes because they increase your knowledge about your body's specific needs.
Semi-privates are sessions with 2/3 people working with an instructor on both mat and reformer. It is a great opportunity to have more individual attention than a class, and allows you to work with friends or meet new friends from the studio.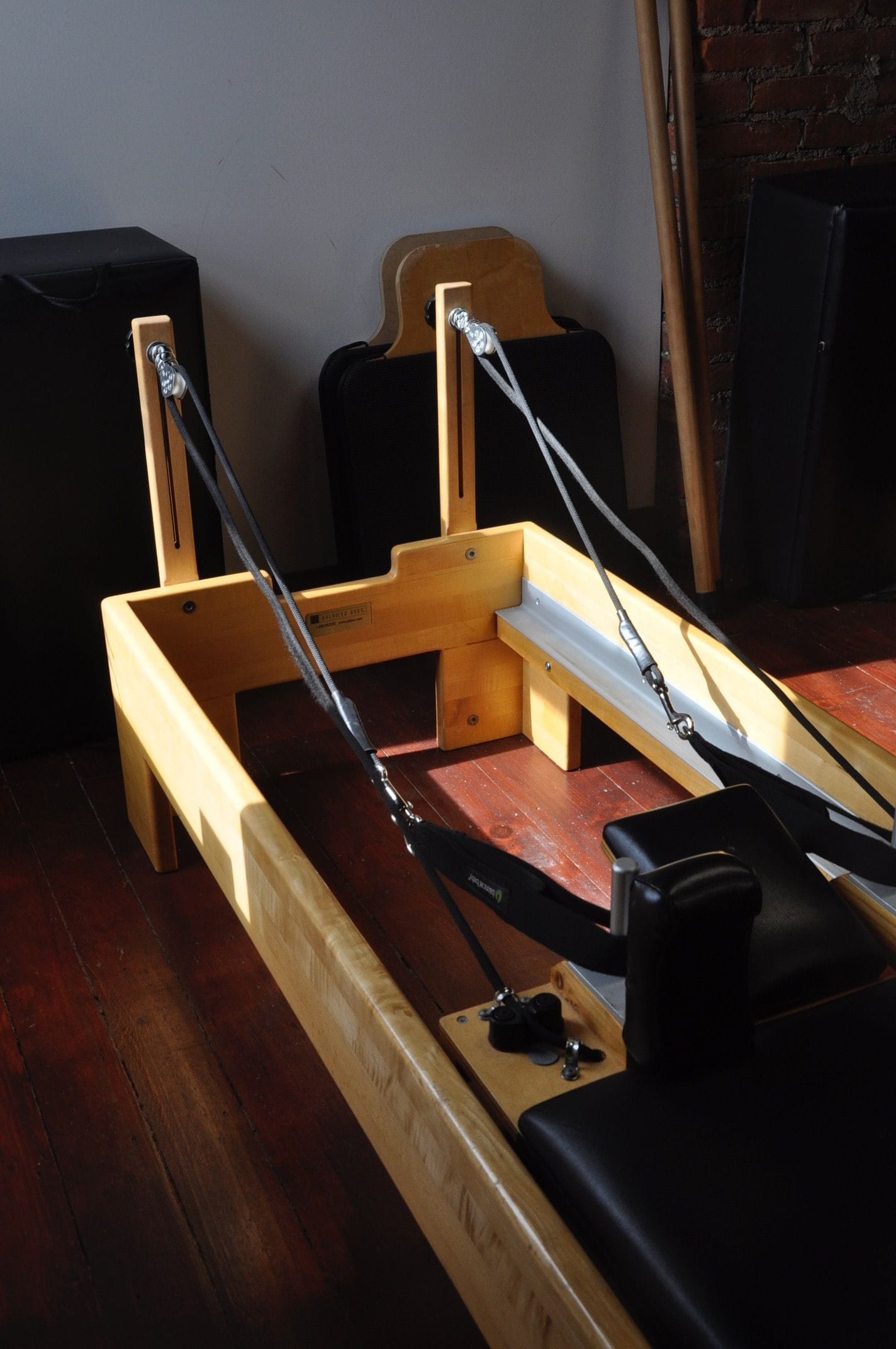 Bring a friend or two to lower the cost, or choose a private session for one-on-one training.=
In our small group (4 person) equipment classes you will be guided through a series of controlled exercises that are specifically tailored to your level of ability. This program will help you attain a higher level of balance in your exercise program as you simultaneously strengthen and stretch your entire body. Combining essential mat work with the benefits of the equipment through a system of springs and bars, the equipment supports the body to ensure proper stabilization and positioning, while providing added resistance for strengthening, toning and lengthening muscles.
PILATES GROUP MACHINE
$38 1 session
$180 5 sessions
$330 10 sessions
$600 20 sessions
65+
$35 1 session
$170 5 sessions
$315 10 sessions
$570 20 sessions
Class Schedule
Pilates GROUP MACHINE:
(LIMIT 4 STUDENTS-RESERVATION REQUIRED)
Monday @ 9am
Tuesday @ 1pm, 6pm
Wednesday @ 1pm, 5pm, 6pm
Thursday @ 1pm, 6pm, 7pm
Friday @ 9am
24hr cancellation required. Full session fee will be charged for cancellations less than 24hrs.
Package rates must be used in a 6 month period. No exceptions. No refunds.